Provocations for art lessons about Kandinsky and the element of line:
With my first group of art students ever (in my role as an art specialist teacher), I had a strong gut feeling that before any art could happen, I needed to win the trust of my students. Not just in me as their guide through this new specialist subject area, but also in themselves as artists. For this reason, I went away from starting with representational art and turned instead to Wassily Kandinsky.
In brief,
Wassily Wassilyevich Kandinsky was an influential Russian painter and art theorist. He is credited with painting one of the first purely abstract works. Born in Moscow in 1866, Kandinsky grew up in Odessa, then spent his working life between, Germany, France and Russia painting in the styles of
Expressionism, German Expressionism, Modern art, Der Blaue Reiter and Abstract art
.
Color Study. Squares with Concentric Circles. 1913
The first questions I posed to my students during our initial 'greet and meet' session was as follows:
These were mostly 5 year olds and it was hard work getting even this much from them :)
Some of the provocation that I used during this unit included this fabulous little book called The Dot by Peter Reynolds.
All the students from ages 4-7 loved the message in the story and this video link will give you a good idea as to why it appeals so...
We followed this up with a mini practical activity that I will write about in my next post 'Going Further'.
Another provocation we used was to gather in small groups and view a laminated print of the following work by our artist model: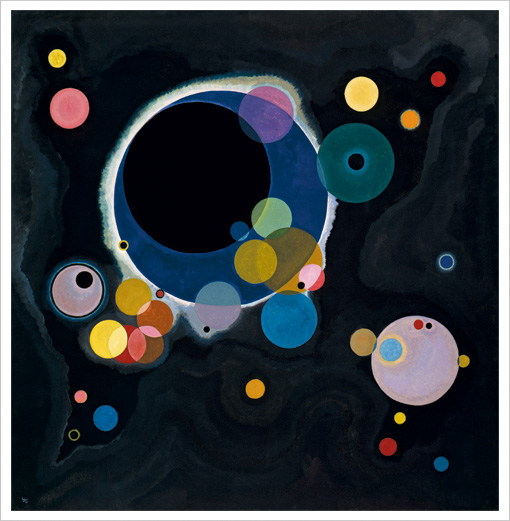 Several Circles 1926
Without any lead in, students were asked to look at this painting in groups of 3-4 and imagine what they thought the painting might be about. This was a very successful activity as students started to take risks with their ideas once they realised that there were no right or wrong answers, we were aiming to push the limits of our imagination and using our skills of inference, linking with prior knowledge (sound like essential reading skills to anyone?)
We had a variety of responses from the more common ones of bubbles and planets to baby birds, eyes and even marbles. Older students/more mature thinkers could start on developing a narrative that fits with this painting.
I followed up with an independent activity that I will write about in my next post 'Going Further'
Later on, we also looked at this paining by Kandinsky:
Composition VIII
This provocation came later into the unit once we were ready to explore line types. Initially I asked students to draw line types that they already knew, onto the whiteboard and once we had a few, we tried to come up with sensible names for these. With this painting, students were asked to identify the lines we already knew before finding new ones we hadn't yet named, to add to their collection.
In my next post I'll write about how we delved more deeply into these concepts. Hope you can return to read more :)
Thank you for visiting,